Best Restaurants: Best Steakhouse In Boston – Abe & Louie's
On the first night of our vacation in Boston, we decided to go to one of the best steakhouse in downtown: the famous Abe and Louie's. This place is an upscale steakhouse presenting fine dining in an atmosphere of timeless elegance, offering guests the finest cuts of prime meats, fresh seafood, and much more. The Abe & Louie's experience focuses on providing undeniably superior service and classically prepared cuisine in a truly impressive setting.
The Abe & Louie's menu features more than 12 prime quality meats in several cuts and preparations, all aged six weeks on the bone. Other offerings include large cuts of tuna steak and grilled swordfish, fresh Maine lobster, whole crispy chicken with lemon poulet sauce, and perennial dessert favourites, including chocolate soufflé, house mocha crème Brule and their signature hot fudge sundae, are also available.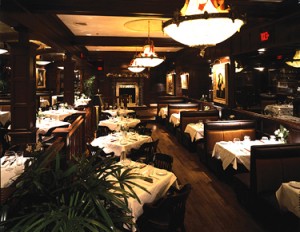 Abe and Louie's extensive wine list is carefully thought out to compliment and enhance the Guest experience.  The philosophy of the wine program is to offer variety, value and passion to be consumer friendly.  They offer a wide range of by the glass and half bottles.
The wine selections include all of the main regions with varietals and vintages that are ideal for drinking now and also offer vintage depth back to 1978 for red and 1941 for Port.  There are also numerous verticals and horizontals offered.  The body of the list offers an international array of the finest quality varietals and producers.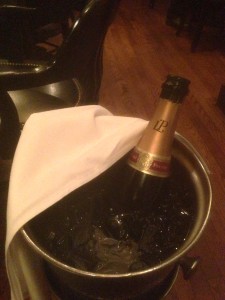 We ordered a bottle of Laurent Perrier brut , which is a very solid product with very good value for money. Small bubbles, that drifted slowly but persistantly to the top of the glass. Spice- and mineral-accented aromas and flavors of pear, lemon and fig, with a subtle anise nuance in the background Beautiful burnished gold highlights, lively in the mouth.Not the best choice with a steak, but considering the hot summer night it was superb.
As starters we ordered Oyster Rockefellers, 6 juicy and tasty oysters to share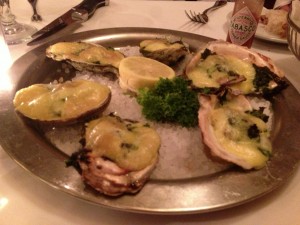 Massive 1.2 kg Porter House steak, cooked medium rare as requested.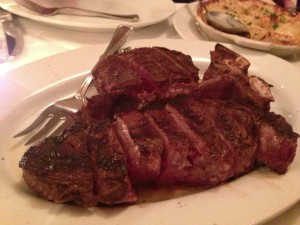 Side dishes … potatoes au gratin and cream spinach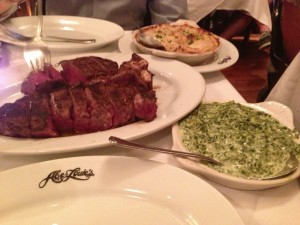 CONCLUSION
The location is very nice, but there is a lot of noise and confusion when the restaurant gets full. Service was very professional but they didn't keep on pouring us the wine. After the first glass we had to do that by ourselves, which is something that always annoys us.
Steak was juicy and very well cooked but to be honest, wasn't one of the best steaks we ever had. The meat was tender and juicy but I think it needed some seasoning or salt during cooking.
Anyway, Abe & Louise is a good choice for everybody who wants a real US steakhouse.
*****
HOW TO GET THERE 
ABE & LOUIE'S – BOSTON
793 Boylston Street – Boston, MA 02116 – USA
Phone : +01 (617) 536-6300


Home page : www.abeandlouies.com

Related posts: