Best Restaurants: Best Sushi In Milan – Zero Contemporary Food
Since the popularity that sushi restaurants gained in the last years, we decided to try one of the best sushi restaurants in Milan: Zero Contemporary Food ..  You have to know that Italy, especially Milan, during the last years has been over flooded by these "so called" Sushi restaurants. But the sad truth is that behind these Japanese restaurants, most of the time,  there is a chinese family…. Well Zero Contemporary Food is a real one, run by a real Japanese chef  Hide Shinohara .
The name of the place is  Zero contemporary food and this gives you the impression that it's something different than most of sushi places in Milan . In fact, most of  these "chinese sushi restaurants"  offer basic sushi or asian dishes as a main meal.Instead at Zero Contemporary Food, they are trying to combine European flavours with real Japanese cuisine using ingredients like : truffles, foie gras , caviar, tomato and fennel.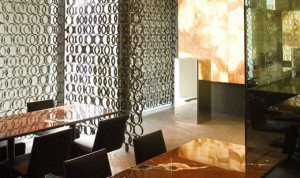 The location is very modern and luxurious ; there are different rooms where you can enjoy your time. I would suggest you the sushi bar where you can see chef Hide creating some fabulous dishes.
But why would you try sushi in Milan? Well, Milan is the city that offers the best seafood in Italy and, of course, it is as well the place where the fish costs more, but for the manager of Zero restaurant  quality was one of the basic requirements in order to create a unique experience.
The Chef Hide Shinohara is thirty-seven. He was born in Akita, in northern Japan, where he grew up and  attended the schools of Japanese cuisine. In Milan, he found fertile ground for his creativity. In order to make sure that his culinary vision can be fulfilled at its best by the staff, all of them has graduated from Japanese culinary trainings – that gives a guarantee that treatment, storage and preparation of fish is done in excellent way.
The Menu offers a few tasting menus that enable you to taste a bit of everything that is being considered the  key dishes of the restaurant. A la carte, on the contrary, fives you broad choice of dishes: from raw seafoods to signature sushi, rolls, maki, hot dishes, toban and many more –  really interesting journey into japanese cuisine.
The wine list is one of the best you can find in Japanese restaurant, that means good choice of bubbles from France and Italy, white and red wines including world famous Chateau Petrus.  We selected local Ca del Bosco Cuvee Prestige, one of the Franciacorta's most famous bottle.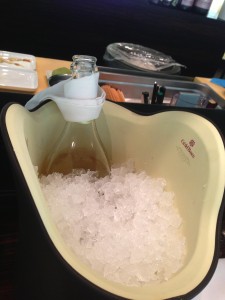 Enough for the introduction! Let's get excited! Let's talk about the food!
We started with Sushi Zero mix which is the signature dish by Chef Hide. There are no words to describe it… very interesting and unpredictable flavors.. very fresh raw products and the chef touch as you can see from the video…
We continued with two different rolls.. One of our favorite , Ebi tempura ( fried shrimp) revisited with pumpkin, zucchini e cheese cream.. Delicious.
And the Signature Roll.. raimbow with truffle . The truffle is glazed on it with blowtorch. Incredible way to prepare it!
Prawn Tempura , an ordinary one but the chef touch comes with the sauce , ginger apple and a secret ingredient…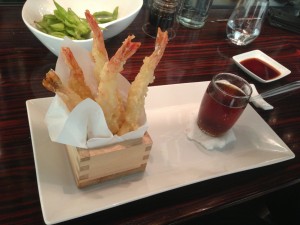 CONCLUSION 
Definitely a place to go. Upscale restaurant in the heart of Milan, food is incredible and be prepared to pay for it . Wine prices are average for a location like Zero and I am sorry to say that the only little disappointment comes when the waiter don't pour the wine on you glass. This is common defect for italian restaurants.  Anyway.. have a try! It 's worth it..
*****
HOW TO GET THERE
ZERO CONTEMPORARY FOOD MILANO
Corso Magenta 87 Milano – 20100 – ITALY
Phone : +39 02.4547.4733
E-mail : zeromagenta@me.com

Home page : www.zeromagenta.it

The place offer high quality products so the price is adequate to it. But if you want to save on the bill just go there between 18.30 and 20.30 and you will get a 20% discount for early dinner!
Related posts: