Best Restaurants: Forte dei Marmi – Alex Restaurant & Wine bar
Today I want to take you to a very special place, Alex Restaurant & Wine bar. Alex is located in Marina di Pietrasanta, a small turistic village, just a kilometer away from one of the most charming sea side towns in Tuscany: Forte dei Marmi
Forte dei Marmi is one of the most popular seaside resort on the Tyrrhenian Sea. Clustered around a pier implanted in the sixteenth, it has been protected, since 1788, by a fort built by Leopold I, visible in the center of the village.
Nobles of half of Europe, diplomats, businessmen and captains of industry, artists and famous people have built beautiful villas hidden and protected by the pine wood, choosing its fine sands to spend their holiday destination. It has also a very active night life with several well known clubs as La Capannina or Twiga (run by the famous manager Flavio Briatore) and some of the best restaurants in tuscany.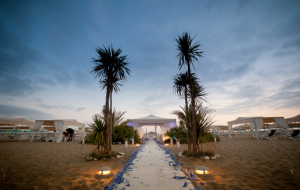 Alex at Marina di Pietrasanta, tastefully interprets both food and hospitality while privileging new flavors; all in perfect harmony with its surrounding. A culinary oasis just few meters from the beach, its recognized quality has also been entered and listed in the most exclusive guides and magazines.
Renowned for its simplicity and freshness of the ingredients, in Alex restaurant you will find the excellence. High quality ingredients are forming both  typical local dishes and international dishes with rare flavors…
The wine list is interesting, with more than 600 different etiquettes of national and international wines, including vintage bottles. We paired our dinner with a fresh bottle of Bellavista Gran Cuvee.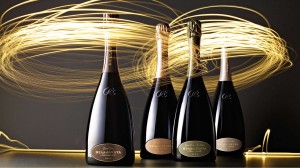 You can choose from "A la carte" menu or 2 different tasting menus: prestige and excellence menu. There is a wide choice of dishes both meat or fish based. The plus in the menu is the caviar section.You can book an exclusive caviar tasting, but of course, prices are adequate to the product.Since we were not particularly hungry we decided to take 2 starters and a main dish.You can check out the Menu HERE.
On the table you will find a special olive oil: the Aska Eleivana. "Aska Eleivana" is more than an expression of the worldwide recognized quality of Tuscan Extra Virgin Olive Oil; it marks a new step towards excellence with the gift of combining its subjective blend of outstanding olives varieties (Cultivar) with exclusive and prized foods. You can find it only on the tables of the best restaurants in tuscany.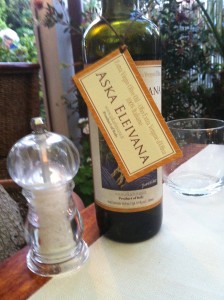 To start we had a selection of luxury raw sea food to share.
Carrots soufflé  and ham roulade with cheese fondue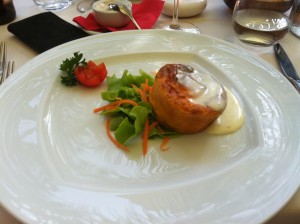 Selection of local cured meat. Extremely interesting since it included a choice of  meats flavored with uncommon spices .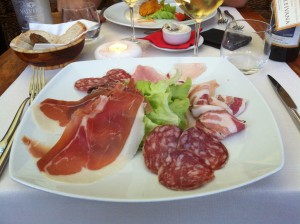 Tacconi , tipical local fresh pasta, with clams and sea bass. A fillet of sea bass in potato crust with vegetable salad (in the picture)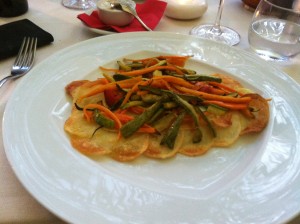 CONCLUSION
Certainly one of the best restaurants in tuscany.Smart and cozy, excellent service with a wide menu. The fish is cooked divinely and paired with amazing side dishes and exciting wines. Alessandro is able to fulfill your culinary dreams, with its simplicity and professionalism.
*****
HOW TO GET THERE
ALEX – RESTAURANT & WINE BAR
Via versilia 157/159  - Marina di Pietrasanta – Lucca – Italy
Phone : +39 0584 746070
E-mail : info@ristorantealex.com

Home page : www.ristorantealex.com

i
Related posts: