Best Restaurants: Gordon Ramsay Petrus London
Here we are with another gem , Petrus  London by Gordon Ramsey .  Awarded a Michelin Star in 2011, Pétrus represents fine dining at its very best. A stylish and modern French menu is perfectly complemented by the restaurant's stunning and modern environment. Superb  presentation and service , this top notch restaurant is located in London, close to Knightsbridge tube station.
Head chef of Petrus is Sean Burbidge. He began his career in 1993 as Apprentice Chef at the Sutton Arms in Stokesley. Having completed his training, Sean went on to gain experience in a number of hotel kitchens before joining Restaurant Gordon Ramsay in August 2003 as Chef de Partie under Head Chef, Simone Zanoni.

Sean progressed to the position of Sous Chef at the restaurant and in March 2008 left London to launch Gordon Ramsay au Trianon in Versailles. Once again under the direction of Simone Zanoni, Sean spent two years in Versailles and assisted the restaurant in gaining two Michelin stars in its first year of opening.
There are few options to enjoy the night, we decided for the chef's menu which is a 6 course menu for 75 pounds excluding drinks. You can decide to pair wines, for a total of 160.00 pounds per person.   The menu you find HERE is slightly different from ours, but they change it quite often.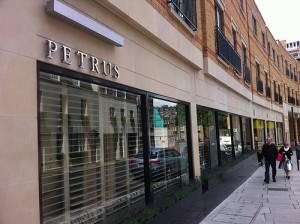 With the menu we started with a bottle of Bollinger special Cuvee for 94 pounds wich i think is good value for money in a starred restaurant. It was a really good surprise , a very easy champagne to go with the chef's menu.
Tasting notes : super value for money for the quality as usual. Round, toasty, rich beautiful nose open. On the palate it is rich and ripe round, nothing unbalanced here.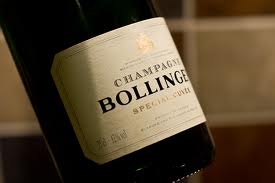 Bread and butter to the table, homemade bread wich is very dangeorus once you enter in a restaurant, you cant stop eating it!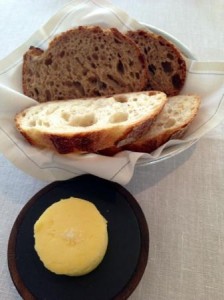 Amuse Bouche: Tomato consomme with paprika sticks
A tomato consomme in  shot glass. It's hot to the touch which I find funny as Gordon Ramsay had grumbled in the past about the serving of hot drinks in glass on a few occasions..The vine ripened tomato soup is rich and throaty, and with a slight taste of crab  in the broth as well as basil and capped off with a creamy foam.
We continue with one of the best Foie Gras  i've ever tried. "Landes foie gras with apple jelly, smoked duck, hazelnut and blackberry crumb"is suberb. Smoked duck and apple really make the difference , well done !!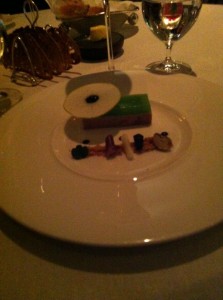 Glass of champagne and scallops are on the table "Pan-fried sea scallops with cauliflower, anchovy and caper, lemon beurre noisette"…..  superb presentation and i must admit scallops were melting in our mouth..   I really enjoyed the combination with lemon and cauliflower..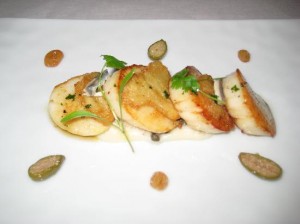 I didnt mention before, but from the chef's menu you should select you main course from a choice of 2.   As we love beef we both went for the  Fillet of Casterbridge beef with roast onion, braised shin, bone marrow and Barolo jus ..
This is what i was expecting, perfection!  Cooked medium rare as requested it was juicy and very tender.  A bowl of roasted potatoes just made the combination superb.
Following a selection of cheeses ( 6 pounds supplement ) , form the cheese tray you can chose up to 3 different ones, so we selected 6 and we shared.  The one i really loved was stilton and of course we paired this selection with a glass of cold port wine..
To be honest i was expecting more from the cheeses, not from the quality but from the queantity. Other starred restaurant we have been ( Spondi) made really the difference on that.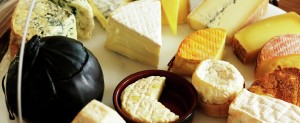 As Dessert.. the chocolate sphere ! I will not say anything… the photos will talk !  Superb!
CONCLUSION
When you visit an high level restaurant you have very high expectations . Gordon Ramsay Petrus ,I must admit,  was a superb place. Service is impeccable, Wine list is huge and not so expensive ,  quality and variety of  food  fantastic. I really enjoyed the combination of certain ingredients which i never thought going good together..   Price is adequate for what you get . Really suggested. Well done Gordon !
*****
HOW TO GET THERE
GORDON RAMSAY – PETRUS LONDON
1 Kinnerton Street - LONDON - SW1X 8EA – UK
Phone : +44 0207 592 1609 – Group Reservations : +44 0207 592 1228
E-mail : petrus@gordonramsay.com
Home page : www.gordonramsay.com
OPENING HOURS
Monday to Saturday
Lunch 12pm – 2:30pm
Dinner 6:30pm – 10:30pm
Sunday
Closed
Dress code
Smart jeans accepted. Sportswear and shorts are not accepted.
Related posts: