Best Restaurants In Athens: Funky Gourmet
The first starred restaurant we had the honour to try on our trip to Greece was The Funky Gourmet. This restaurant is one of its kind, specialized in molecular cuisine. It is not only the taste, but also smells, colors, the food textures and sounds that make each dish unique. If you are new to molecular cuisine, prepare to be amazed, but also keep in mind that you won't have a normal meal. This will be a journey discovering a completely new way of having food.
The building is located in the area of Keramikos, amidst various theatres, art galleries, sophisticated loft and neoclassical buildings.
On the upper floor you will be welcome by the two chefs – owners, Georgianna Hiliadaki and Nikos Roussos. Young, talented with a cosmopolitan view, graduated from the Institute of Culinary Education in New York, these two chefs create a modern, avant garde cuisine using techniques inspired by Georgianna's stay at El Bulli.
Another thing that makes this place stand out is their offer of private cheffing; a transformation of catering into haute cuisine. How cool is that to have a chef preparing meals specifically to your party's needs and wants?
In 2012 just after 2 years of restaurant operations, Funky Gourmet has been awarded with a Michelin star. Congratulations!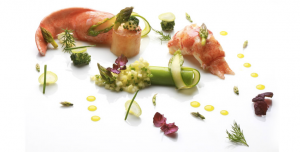 As i was writing before, the Funky Gourmet is not just a restaurant. It's an experience, a journey. And in my opinion the best option to enjoy such a journey was to let the chefs guide us with the tasting menu. You can choose a la cart or 3 different tasting menu. We chose the degustation menu n.2. You can check the menus on their site or clicking on the image below.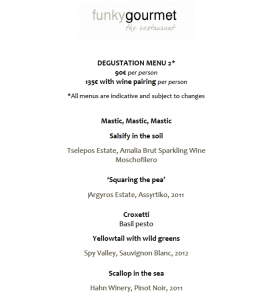 The staff is very helpful and will guide you through a totally innovative experience that will amaze you with each course. Creativity, courage, great combinations of flavors and quality of raw materials led to an incredible achievement.
The degustation menus have the option to pair all the food with a different glass of local wine. Even if I personally think that Greece has few extremely nice wines, on this particular evening I was feeling more like bubbles so we took a bottle of champagne.
We chose  thee Jacquesson Cuvee 736. The Cuvée 736, is a very interesting wine because it is based on the excellent 2008 vintage and it represents the turning point for Jean-Hervé and Laurent Chiquet. In fact since 2008, the production from their own vineyards (28 hectares) is completely  biological or better organic.
Smell very elegant, vigorously lively, and on the other side dense and concentrated aromas, fused between fruit and minerality, in other words, very rich. Excellent champagne, the best of the series 700.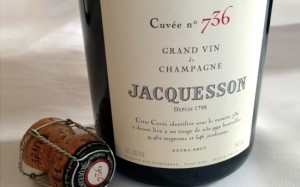 So let's start the experience! The first dish was the "Mastic Mastic Mastic" and it was quite surprising. Made with a base of Mastic the chefs prepared an interesting appetizer  with a unique presentation on a piece of wood.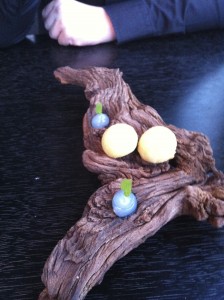 Salsify in the soil, another astonishing appetizer served on a stone and a mini spade as spoon.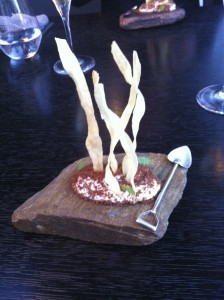 Squaring the pea was the first of the 2 first courses. An incredible way to transform peas and potatoes in something magic… and extremely tasty!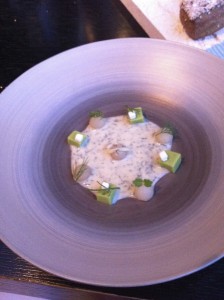 The second of the first courses was called croxetti. It was an unconventional experience. The waitress brought us a plate with a pot, some raw pasta (actually not completely raw) and a bowl containing pesto ingredients. To eat you have to smash by yourself the leaves of basil and cook the pasta in the pot. Super funny!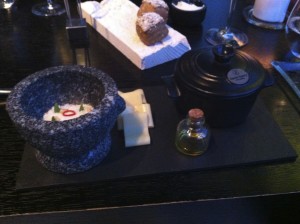 Superb langoustine laying on a hot shell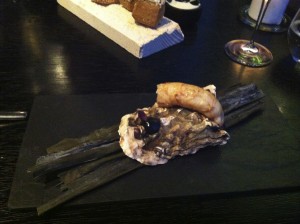 Scallop in the sea: try it and you will really taste the sea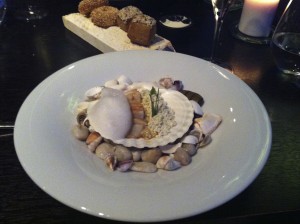 Choriatiki salad: mind blowing and a surprise! You have to see to believe….and the taste is sensational.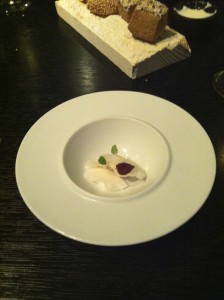 After that we had quite a surprise. They brought us a burger. Well forget everything you know about that because this burger was extraordinary. Juicy, tasty.. amazing!
The last main course was the rib eye. The difference here is that it was served raw and we had to cook it on a hot stone at the table.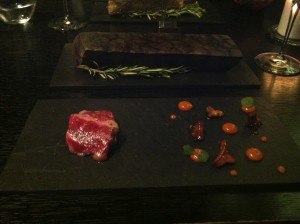 We finally had a series of incredible desserts. Extremely tasty, extremely unique!
We accompanied our dessert with some wine from Santorini. It is coming from the Argyros Estate. The Mezzo Vin Santo 2002. (A combination of Assyrtiko, Athiri and Aidani) –a wine with great balance of sweetness and acidity
CONCLUSION
Funky Gourmet is one of Athen's best dinning destinations. Molecular gastronomy transforms traditional Greek dishes into an amazing experience! As you may understand It is not a cheap place to be, but for me it's worth every cent..
The creativity in presentation, the impeccable attention to detail, the incredible taste of each dish, and the marvelous service – they all add to that uniquely fabulously experience. So overall we spent an incredible evening but i just want to emphasize 2 things:
Of course the surprise value is diminished the second time you go as you know some of the dishes but the experience, the food, the theatrics (trust me you'll like them) of the staff, the excellent service everything is 5star!
If you are not open minded and inclined to new experences and new way of thinking (well in this case of cooking) you may not like the place
My conclusion: extraordinary experience to try once in your life but only if you go there mentally prepared to assist to something that will differ quite much from a traditional dinner!
*****
HOW TO GET THERE
FUNKY GOURMET – PRIVATE CHEFFING
13 Paramithias Str. And Salaminos – 10435 Athens – Greece
Phone : +30 210 5242727 – Fax : +30 210 5242728
E-mail : info@funkygourmet.com
Home page : www.funkygourmet.com
Related posts: