Best Restaurants In Athens: Spondi
During one of our last trip in Greece after few days of feta, moussaka, pita and tzatziki we decided to try the 2 Michelin starred restaurant in Athens: Spondi and Funky Gourmet. In this article I will talk about the first one, which was in my opinion, the nicest…
Spondi was created in 1996
 by Mr Apostolos Trastelis, 
and it is situated in an historical district
 in the center of Athens, at Pagrati,  next to the splendid 
Panathenian marble stadium where took place 
the 1st modern Olympic Games in 1896.
During a short period of time Spondi gained an incredible number of awards. For Twelve consecutives years (2001-2013) was voted "Best Restaurant in Greece", and thanks to the chef Arnaud Bignon finally got its first Michelin star in 2002. In 2008 a second Michelin star was awarded to this incredible restaurant and in 2013 was voted by
 "Restaurant Magazine"
 as the 97 best restaurant in the world.
The location itself is really fascinating.. with a wide indoor space, the real pearl is the inner court with its decorating plants and games of lights.
The service was perfect from the beginning, waiters are very professional and helpful and as a restaurant of this level requires there was a somellier too…
I think one of the best way to enjoy a gourmet restaurant is to take the tasting menu. Usually it is composed by a series of the chef signature dishes just with smaller portions. Spondi offers two different tasting menus: tapas and discovery menu. We got the discovery menu which is more complete than the tapas one and cost 128 euro per person.
Of course if you prefer you always have the possibility to chose food from a la carte menu, Click Here to download it in pdf form
First of all we decided to start with an interesting bottle of Deutz a Champagne Producer based in the Aÿ region of Champagne. The house was founded in 1838 and run by successive generations of the Deutz and Geldermann families. Deutz produces both vintage and non-vintage cuvée as well as a prestige wine known as Amour de Deutz. . We love bubbles and we weren't disappointed by the quality of this champagne.
For the main meals instead we chose ILLUMINATI , "LUMEN" CONTROGUERRA ROSSO 2000 an italian wine from Abruzzo. It's a red wine with dark garnet. Great nose with black cherries, sweet spices and herbs. Mid-full bodied with very soft tannins, good fruit and moderate acidity. Not the greatest Italian but a solid bottle of wine.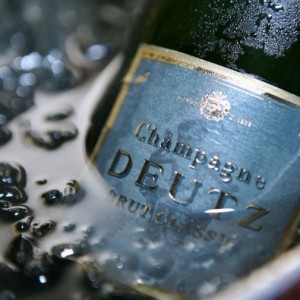 After a tasting of cretan biological oil our first dish was a crab gelatin, with exquisite aromatic herbs served in a glaze of  granny smith apples on a cream of cauliflower.. extremely fine and delicate.
The foie gras was pan fried and served with a special roll of deglet nour dates and candied lemon. I have to admit, at the beginning I was skeptical but finally the combination was surprising. Thumbs up!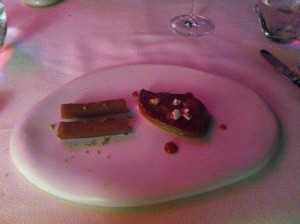 Here comes the surprise of the evening. The chef transformed a simple dish as the sea bass in a piece of art. The fillet was fantastic and incredibly big, a taste of rare intensity and the crust of bread and botargo added a mixture of flavor that placed this plate in my top 5 fish dishes ever!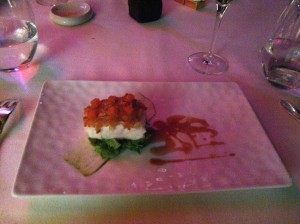 The duck was lean and soft accompanied by an interesting sweet potato puree with aromatic herbs. No need to say that I enjoyed it too!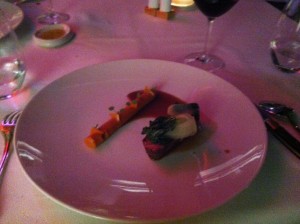 When i was at Petrvs, a Gordon Ramsey restaurant in London, I ordered the cheese plate. They  brought a huge collection of cheeses from which I just had the chance to pick up 3 of them.. Here Spondi made the difference. After bringing us a cheese table we had the possibility to choose up to 7 luxurious and famous french cheeses like Roquefort, Chevre Premier De Moulis and Pont  l'Evêque. For a cheese lover like me this was terrific!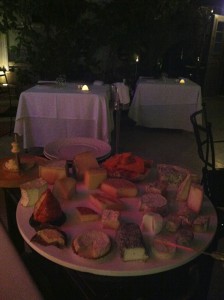 The gran finale: a coffee ice cream inside a crunchy meringue and a chocolate cake made with pure Alpaco chocolate from Ecuador , soft caramel, peanuts and pistacchio icecream. Delicious!
CONCLUSION
Nothing less than what you would expect from a 2 Michelin star restaurant. Nice atmosphere, impeccable service and very creative, french food. It's a unique experience and you can see the work (both in mind and matter) that went into creating each of the dishes. One of the best starred restaurant I ever tried. So if you are not on a budget and are spending some time in Athens stop eating Souvlaki and go to Spondi!
******
How To Get There
APOSTOLOS TRASTELIS & CO O.E. RESTAURANT
PYRRONOS 5 – 11638 PAGRATI – ATHENS – GREECE
Phone : +30 2107 564 021 – Fax : +30 2107 567 021
E-mail : info@spondi.gr
Home page : www.spondi.gr
Related posts: