Best Restaurants: Menton Boston
During our stay in Boston, the place we were more curious about was without any doubts, Menton.
A blend of French discipline and Italian passion reflects the restaurant's namesake, a French seaside town near the Italian border. Located in Fort Point, the neighbourhood's urban cityscape, with its blend of historic brick buildings and sleek, futuristic design statements, is the perfect setting for Menton, a modern interpretation of fine dining.
With beautifully executed cuisine, an unparalleled wine program, gracious hospitality and a glamorous setting, Menton seeks to excite, inspire, and transport guests for one memorable evening.
Since opening in 2010, the restaurant has received numerous accolades, including a 4 star review from The Boston Globe, being named one of both Bon Appétit and Esquire magazine's best new restaurants in 2010, and being nominated as a James Beard Foundation Awards 2011 finalist for Best New Restaurant.
Menton received the Best Newcomer, Best French, and Best Service distinctions in the Zagat Boston Restaurant Guide 2011-2012 and is Boston's only Relais & Châteaux, AAA Five-Diamond, and Forbes Travel Guide Five-Star property.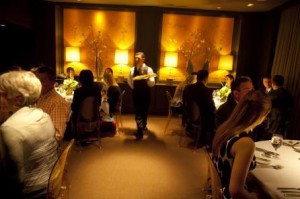 As soon as you step inside, you will feel a magic atmosphere. Interiors are nicely decorated with a modern and warm design and the service is top notch. All the staff is well prepared and willing to make you feel as comfortable as they can. I was surprised by their knowledge about the food and the wine they were serving. Really high standards that you usually find in Michelin starred restaurant.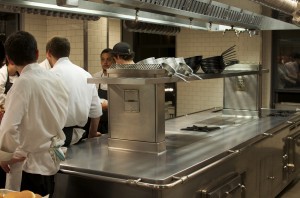 You can choose 2 options when ordering food. The fixed price menu and the tasting menu. With the first one you can get a starter, 2 main dishes and the dessert for 95$ We decided to go for the tasting menu, which is composed by a selection of 7 meals. Great value for the money, it costs 155$ With 105$ extra, you can get the wine pairing.
This menu offers the unique opportunity to savour a menu created expressly for each guest based upon the seasonal collection of carefully sourced ingredients and the guest's tastes and preferences.
The wine list is massive and includes a lot of interesting vintages of the major winery around the world. Prices are adequate.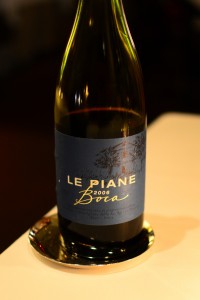 We paired our dinner with a bottle of Le Piane Boca 2006 from Piedmont, district of Novara.  The Vineyards are situated between Valle Sesia and the lake of Orta in the Lower Alps. It's composed by: Nebbiolo (85%) and Vespolina (15%).
Tasting notes: The mineral composition of the porphyry soil together with the characteristics of the Nebbiolo grapes create in Boca a full expressive wine.  Flavors are reminiscent of well-matured wood berries, tobacco and leather with hints of balsamic and citrus fruits.  Power and silky elegance develop in the mouth that plays with a slightly noble-bitter finish.
Amuse bush: halibut with caviar in a crispy roll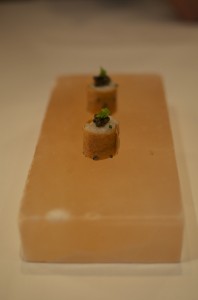 Amuse bush : "baci di dama" with goat cheese filling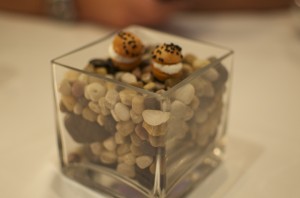 Borsch with sour cream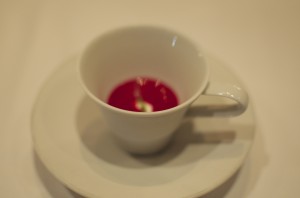 Lobster gazpacho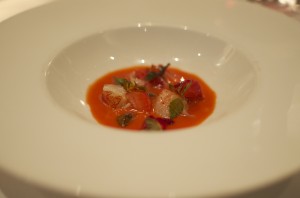 Lobster salad with black caviar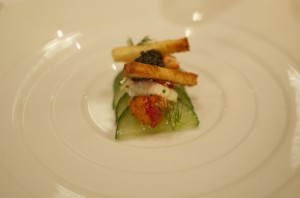 Pan seared scallops with corn puree and truffle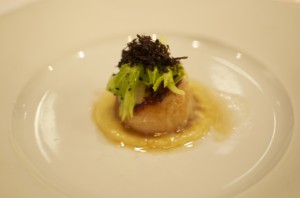 Halibut on cucumber broth and ravioli with tomatoe consommé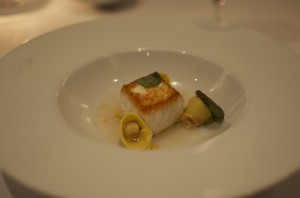 Risotto with beetroot and fresh mozzarella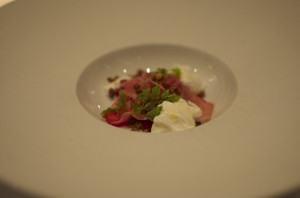 Foie gras with figues , walnuts and figues jam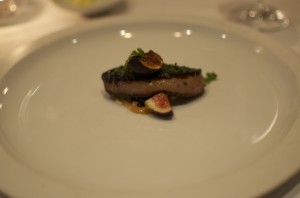 Slowly coocked duck with vegetables and meat pie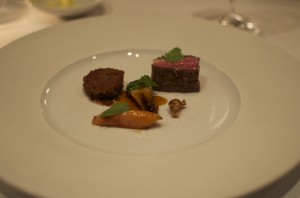 Slowly coocked Marcho Farm veal with stuffed cannellone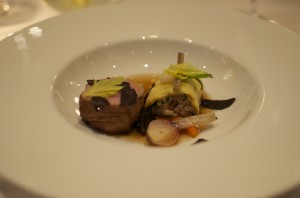 Chocolate and fruit desserts. Delicious!
CONCLUSION
This is an up scale restaurant with an excellent service. The dining room is elegant and not overstated, with the feel of the city around it. The restaurant filled up as we ate but the service continued to be excellent – prompt, knowledgeable, sensitive.
There are just a couple of aspects that let us a bit disappointed:
- The bread, which in our opinion wasn't impressive (and actually we had to ask for it)
- The service was extremely professional and we loved it but…. at a certain point the waiter brought us a dirty spoon.. If you are aiming to get a Michelin star this is something you really have to avoid…attention to the details is essential.
Overall I think this is one of the best restaurants you can find in Boston. Just a little below a 1 Michelin star standards. If you are looking for a fine dining experience, save your pennies and head to Menton.
*****
HOW TO GET THERE
Menton is located at 354 Congress Street in Boston's Fort Point Neighborhood. Please note valet parking is offered after 5pm for $18 per car. There is also parking available in several open lots and garages in the immediate area.
They also offer the possibility to book a Chef Table or a Private Dining Room
MENTON – BOSTON
354 Congress Street – Boston – Massachusetts – USA
Phone : +1 617-737-0099
Home page : www.mentonboston.com
Related posts: