Best Restaurants: Milano Restaurant – La Maniera Di Carlo
Here we are with our first "home game" night.. After many restaurants around the world we decided to give a try to " La Maniera Di Carlo" , a quite new name on the downtown reality…   Located in central Milano , close to Linate Airport and 10 minutes ride from Duomo, this restaurant has a very warm and familiar interior which gives you a relaxing mood to start your food journey.  Dining room is quite small, but that is the sign that they do their job in the proper way.  Better Quality than Quantity.
Once arrived, a flute of prosecco offered from the house it's a good start. Very few places are still offering a welcome drink.
You have 4 different options for the dinner.  A la carte or there are 3 tasting menus  as follow :   Meat  , Fish  and Meat and Fish     .  60 euros for the first ones and 70 euros for the mixed one . We decided to go for the mixed one which includes 2 starters , 2 pasta entrees ,2 main courses and dessert .We paired  the tasting menu with wines selected by the owner  ( which we discovered later also being  the chef )
Very important aspect..  Chef asked us about food allergies or any intollerance.
Wine list is very interesting at the right price.  A selection of the best wines from the country and also good choice of bubbles from France.
We started with a bottle of Saten , Bosio producer.  100% Chardonnay featuring a fine and persistent perlage,  has notes of white flowers and vanilla. It has a softt ouch on the palate but at the same time very complex. .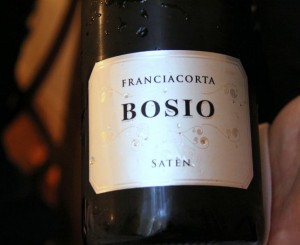 Let's talk about the food.. which is more interesting than all these words..
Home-made bread and grissini .  Very interesting type of bread : red onion, milk, olives and paprika grissini really outstanding.   I do think that the bread is the first sign of a excellent dinner.. when they bring "boring" bread tray most of the times ends up with a disappointing dinner.
Amus Bouche was a Pinzimonio of raw vegetables with a beetroot cream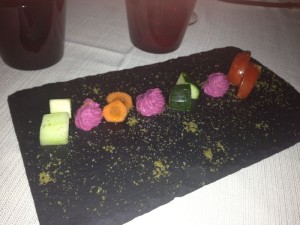 Starters time..
A raw seafood mix creation..   Mazzancolle prawns with Melon and papaya , home made smoked salmone with apple, Scallop marinated with lavender oil , chopped squid with wasabi cream.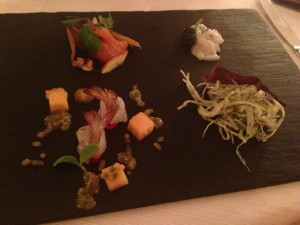 Anchovies with a olives and caper  tartare and red basil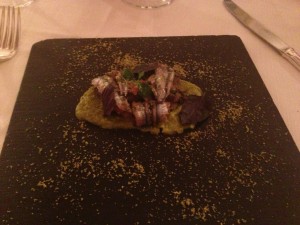 Wrapped Scallop and a Prawn with strawberry confit.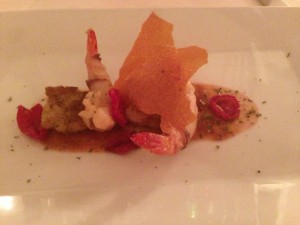 Fassona Hamburger on a guacamole cream , mousse of chives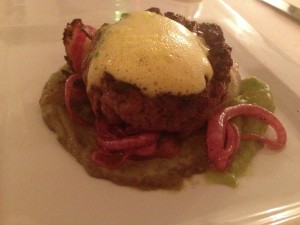 Maltagliati  homemade pasta  with erbs  , red fruits on a martini reduction. As the next pasta entree we loved the way it was cooked. We can understand that some people could find it a bit too "al dente" .. In that case just ask to the chef to have it cooked a bit more. He will be more than happy to make you happy!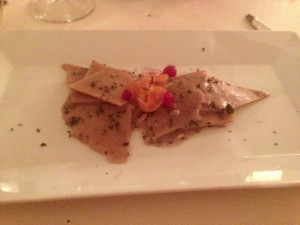 Home made ravioli filled with grana vacche rosse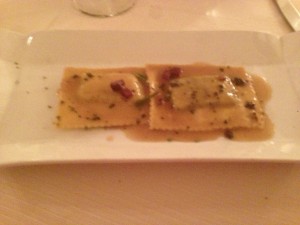 Cucumber tartare with tonic water mousse and aromatic erbs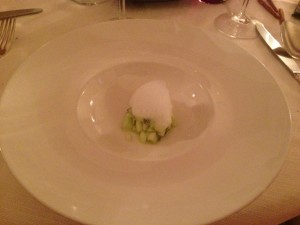 Octopus with red onion, camone tomato and watermelon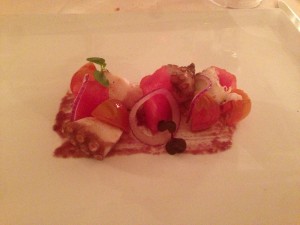 Veal with erbs, hazelnut and taralli. The pictuer came out like a mess but the dish I can assure you was delicious ! Soft and rich in flavor .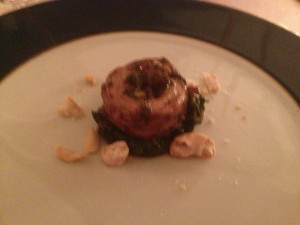 As a pre dessert we had a basil mousse with white chocolate and peaches. Extremely interesting mixture of flavors. After that we got the  Cardamomo chocolate and mango ball with coconut milk. Dinner over? Not really.. The chef surprised us with an extra serving of mignons paired with a good passito wine.
We finished our meal with something special and extremely rare to find, especially in a restaurant. In fact the chef brought us a bottle of "Amaro Nurin – Riserva del Fondatore" . This spirit is obtained aging the original amaro Toccasana  for 3 years in oak barrels. This amaro Toccasana liqueur is made from a special blend of 37 herbs masterfully selected and juxtaposed to one another according to an old recipe. Slightly bitter, with a unique flavor, perfect balance of flavors and aromas, pleasantly bittersweet, moderate in alcohol. A rare ancient gem.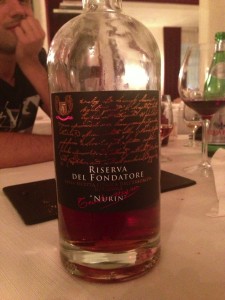 CONCLUSION 
Talking about the service we can say that is amazing. Chef-owner-waiter at the same time gives you the impression he wants to care every single aspect of the service.  We asked him about it and the answer was: I want to "put the face" in front of my clients.I totaly agree with this attitude.
Every creation of the kitchen was a fantastic mix of premium raw products and creativity of the chef.  We really enjoyed this experience and we suggest it to everyone.
*****
HOW TO GET THERE
LA MANIERA DI CARLO – MILANO
Via Pietro Calvi 2 – 20129 – Milano – Italy
Phone : +39 02 7602 4261
E-mail : info@lamanieradicarlo.it

Home page : www.lamanieradicarlo.it
Related posts: