Chef Interview: Sergio Circella And His Family – La Brinca (Genova)

Tell us briefly about you, your life and professional experiences?
My name is Sergio Circella, and I was born in 1965. I have always lived and worked at Nè in Val Graveglia, which is a small country hamlet above the Mediterranean sea overlooking Chiavari and Lavagna. I come from a working class family involved in local agriculture. In 1987,  after I finished my education, we restructured an old farmhouse and opened a small restaurant here in Nè. We immediately proposed home cooking by adopting local produce. Over the years I studied enology and became a professional Sommelier and wine taster for several committees. I am married to Pierangela who is also a chef here at Brinca. We have two twin sons, Matteo and Simone, who were born in 1990. They are both at university and help us out at Brinca (Matteo is a professional Sommelier, while Simone is a valid assistant for his mother).
When did you start to cook?
I am not the one in the kitchen. My mother Franca has always been the cook, firstly for  the family and then here at Brinca, together with my brother Roberto, who taught himself, along with my wife and Simone, and two girls from nearby who have grown up together with us.
How would you define your cuisine?
Traditional and refined country cuisine from the Eastern region of Liguria, being always respectful of antique recipes in preparation, use of products and presentation, and at the same time always trying to improve the same thanks to modern cooking techniques.
Where do you find the inspiration to create a new dish?
From handed-down knowledge of those who have been here before us in this difficult part of the woods, and by always using local products in the dishes we create.
How important is tradition in your cooking?
From what I have said before this is very important indeed. However, tradition does not mean stay still, since modern techniques give us the possibility of improving the quality of these traditional dishes.
How important is territorialism in your cooking? Where do your basic ingredients come from?
The same as I said before, it is of extreme importance. The majority of basic ingredients are produced and grown locally.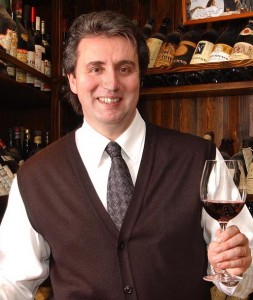 What idea would you like to express about your cooking?
When tasting one of our dishes, I sincerely hope that my clients realize where they are and are left with a vivid memory of our territory.
Which are your favorite ingredients?
Potatoes, onions, cabbage, herbs, wild mushrooms, rabbit, basil etc., humble ingredients of Ligurian cuisine. Given the time required to prepare our dishes and the high price we pay to our local producers for top quality, in the end they are not exactly 'humble'……
What do you think about Internet and how important it is for your profession?
When I created the first website for Brinca at the beginning of the year 2000, and with the coming of electronic mail. I did not honestly think that this new technology would have changed the way of communicating for our profession. However this has not been the case and I must admit that it would be impossible to live without the Internet. Speed of communication and the power to find out something from the four corners of this earth in a split second is something extraordinary.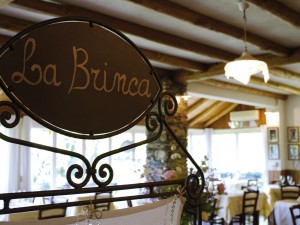 Do you use the social network? If yes, do you find it useful?
I don't personally like it, but thanks to my sons, they have made me understand that it can be useful, so every now and then I use it. I don't like blogs or chat, I am old fashioned, I prefer to speak directly with people.
What do you eat at home? Do you have something which is your favorite dish?
I like simple food, nothing fancy. Vegetables, legumes, pasta, white meat. My favorite fish dish is fresh anchovies cooked any way. I also like cold meats and cheese (excellent) and fruit.
Innards, snails, frogs legs and oriental cuisine in general.
Which is your favorite dish?
Stuffed pasta.
Which ingredient is indispensable for your cooking?
Amongst many, aromatic herbs.
Does a chef have to be a healthy eater?
The first thing you need to be able to do is to taste your own dishes, so……..
What advice would you give to someone wanting to start-up a career like yours?
It's the best job in the world, the most difficult, never look at the time or the amount of hours you put in, and you earn very little money, at least in Italy. Despite this a sincere compliment will change your day,  unlike any other profession.
Related posts: