Cooking Apps: Bring The Chef On Your Smartphone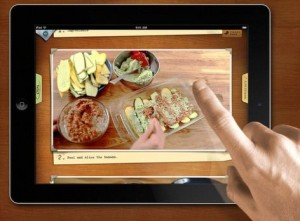 Do cooking apps make you smirk? Visualize yourself stirring the cake mixture with your right hand as you are holding the cookbook open with your left to read the great, but elusive, recipe on the newly bought celebrity cookbook. And how about the stacks of cookbooks clogging up your shelves, all of which are newer and improved versions of previous editions?
And those recipes you are "dying to try"? And that booklet from your latest cooking class? All great. But for most of us, a little too much and now, probably, covered in dust. Sounds familiar? In this case, you might want to consider replacing Angry Birds with one of these cooking apps.
There are several features that a Cooking App should always have: a sleek interface that is easy to browse, gorgeous food photography, and a good selection of recipes. We also looked for extras like intuitive shopping lists, helpful cooking videos, and nutrition facts. Take a look to our collection and find the cooking app that best suits you.
Related posts: