Farm To Table Restaurant: Horn O Plenty
On our way to Baltimore from Pittsburgh we decided to stop for lunch to an uncommon place. In fact with a little deviation we reached Bedford, a small country village, named after Fort Bedford, a fort set up by the British army in 1758 for the politically powerful Duke of Bedford in England.
But what make this place special is Horn O Plenty a romantic place where you can eat genuine food directly from their farm.
The restaurant is located in an old building, it has a small car park in the front and nice green landscapes on its back.
Horn O Plenty is a farm-to-table restaurant using locally sourced and organically grown meat, dairy and produce. The menu reflects the seasons of the local harvests. This "freshtaurant" serves lunch and dinner and a Sunday brunch.  The hand built, wood fired oven is at the heart of our restaurant.  Owners believe in sustainability, environmental stewardship, and fresh, healthy, and delicious food!
We didn't have lot of time to spend here so we decide to go for some fresh and fast food. Actually for lunch the offer wasn't quite wide so we didn't have a large selection to choose from.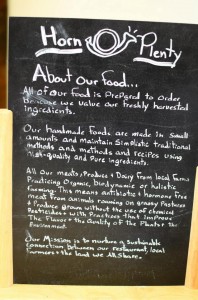 As you may imagine the main characteristic of Horn O Plenty is the fresh and bio food. This is why the menu changes often, almost every day. As soon as we sit the waiter brought us a plate with some bio bread and fresh butter. Butter was perfect in taste but a bit too cold, so it was hard to spread it; but it reminded me when I was a child and the breakfasts at my granny's…
To start we had their rustic wood fired pizza.. Nice one but far away from my Italian concept of pizza..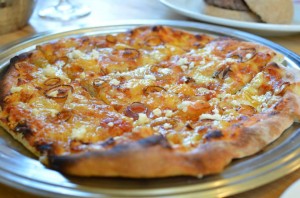 Then we had a nice bio hamburger, with juicy meat and a bit poor in sides.. But well we are at the farm, not at Mac Donald's here ..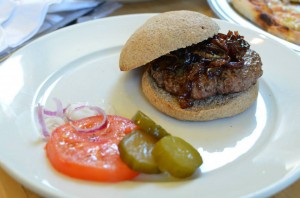 CONCLUSION 
We can say that you can really taste the quality of the products coming from the local farm , cooked with simple and natural ingredients.Staff is very pleasant and they like to talk and explain you everything. My only concern is about the food portion sizes which are quite small and the small selection of products they offer at lunch time… But overall, if you are in the area it definitely deserve a try!
*****
HOW TO GET THERE
HORN O PLENTY – FARM TO TABLE RESTAURANT
20 Wolfsburg RD – 15522 – Bedford – PA – USA
Phone : +1 0(814) 623-0522
Home page : www.myhornoplenty.com/