Food And Travel: Agriturismo Tuscany – Poggio dei Papi
Let's start our new section Food And Travel with the perfect choice for an agriturismo in tuscany:
Poggio dei Papi  a beautifully restored 300 years old farm house. Located among the green hills of Montalbano, just a short distance from a Medieval village and 300 meters above sea level; with a natural park that extends over 12 hectares it's a magic place to relax and have genuine local food.
The position gives you beautiful and extensive views of the typical Tuscan landscape.

The area offers opportunities for wonderful outings: trekking, horseback riding and mountain-biking.It's also a superb spot for food & wine lovers. 
Poggio dei Papi offers to his clients relaxing rooms and apartments. A restaurant, offering typical tuscan cuisine, will please the finest palates.The farm agritourism produces wine, extra virgin olive oil and honey.
You are in the heart of Tuscany and you can reach all the famous spots within short drive.Wineries, Versilia seaside, Florence are just steps away. We think it's a great place to sleep and rest if you really want to taste the Tuscan hospitality.If you are looking for agriturismo tuscany this is a perfect destination for your holiday.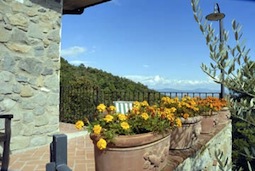 Let's talk about  food and wine.. which we believe it's more interesting than too much talking….
They offer few set menus and a la carte, which change almost every day according to availability of local products.The Wine Cellar is not very big, but they have all the most important wines that made Tuscany famous for : Sassicaia, Ornellaia, Solaia, Brunello di Montalcino and Chianti..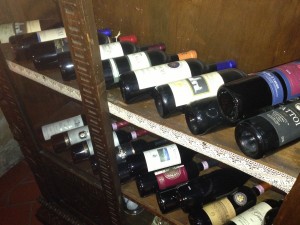 We decided to drink world famous Sassicaia 2001 vintage ( 85% cabernet sauvignon and 15% cabernet franc), which is one of the most famous Italian wines produced close to Livorno in a area called Bolgheri. We were very excited about it and you can find full review about the wine HERE .
We started with a mix tuscan antipasto which includes :
Local salame and pecorino cheese to go with homemade schiacciata bread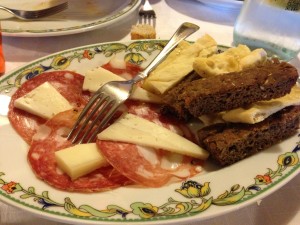 Black Truffle and Porcini pie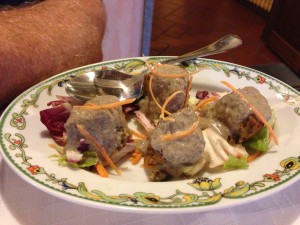 Melon with local Prosciutto crudo  (raw ham)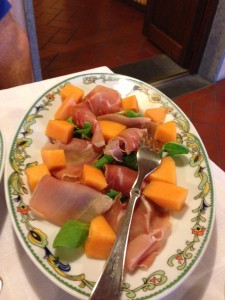 Meat slices with local olives and salad  (in the picture) and Tuscan Crouton with livers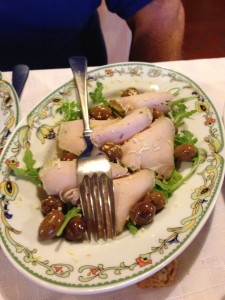 We skipped the pasta dishes and we continued with a beef Tagliata with oven baked potatoes and arugula salad.Meat was very well cooked and tasty.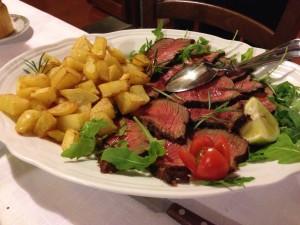 Dessert.. It was made especially for us.. a fresh fruit Pie. We matched it with a bottle of local Vin Santo which  is a kind of Italian dessert wine. Traditional in Tuscan wine, these wines are often made from white grape varieties such as Trebbiano and Malvasia.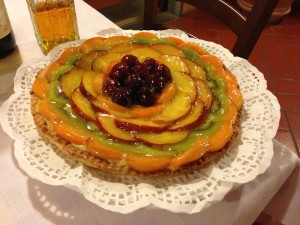 CONCLUSION 
We can say that you can really taste the quality of the products coming from the local farm , cooked with simple and natural ingredients, like their olive oil.Staff is very pleasant and makes you feel like at home.They like to talk and explain you everything.We really suggest this place for a resting and tasting holiday.
*****
HOW TO GET THERE
POGGIO DEI PAPI – AGRITURISMO TUSCANY
Via San Giusto Loc. Papi – 51034 – Casalguidi – Pistoia – Italy
Phone : +39 0573-528-093 – Fax : +39 0573-528-093
E-mail : info@poggiodepapi.it
Home page : www.poggiodepapi.it