Gourmet Recipes: Carbonara Pasta Recipe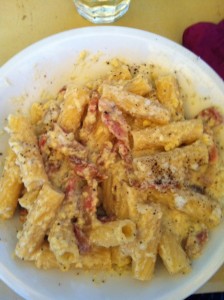 Our friend Chef Tretazze recipe for The Fine Dining readers
The origin of Spaghetti Alla Carbonara is somewhat torn: somebody attributes it to the Umbrian Carbonari somebody else accredits it to the Romans in the nineteenth century. Others attributes this pasta recipe to Ippolito Cavalcanti, a Neapolitan nobleman who published this carbonara pasta recipe in one of his book.
It is also said that spaghetti alla carbonara were born during the Second World War when the Americans brought in large quantities bacon and powdered eggs, which were part of military rations. By the inspiration of the Roman cooks this dish was born so simple and at the same time very tasty.
HOW TO COOK
Cut the bacon into thin strips.
In a pan make it crispy without adding oil.
In a bowl combine and whisk together the eggs, egg yolk, salt, abundant black pepper , and pecorino romano cheese.
Cook the pasta and take away from the fire a couple of minutes before the end of cooking so that it will continue to cook in the pan releasing starch which will be used to mix everything.
Add the pasta to the bacon in the pan, turn off the heat,  pour the mixture from the bowl to the pan directly on the dough.
Stir to mix, using only the heat of the pasta, to make sure that the egg does not become omelette.
Serve adding grated pecorino cheese and black pepper.
Enjoy your meal!
INGREDIENTS:
Rigatoni or Spaghetti
Eggs ( 1 each plus one yolk )
Pecorino Romano
Guanciale (beacon)
Salt
Black Pepper
Related posts: