Michelin Star Restaurant In Hong Kong: The Golden Leaf
During a trip to Hong Kong we had the unfortunate idea to try a michelin starred chinese restaurant. Well, as you may guess the experience wasn't formidable. To be honest i still don't know if I didn't enjoy it because I'm too spoiled or simply I don't like that kind of food.
Living in Milan I'm used to see a lot of chinese restaurants around and I know what you can expect from them. Entering a michelin starred restaurant, tho, I was expecting something more. But let's see it in detail..
Awarded 'Hong Kong and Macau's Best Restaurants' by Hong Kong Tatler for 19 consecutive years, the Michelin-starred Golden Leaf restaurant is perched at the lower lobby of Conrad Hong Kong and it's furnished with traditional Chinese-style carved teakwood and rosewood furniture, with antique art pieces complementing the atmosphere.
Golden Leaf also offers three elegant private dining rooms for parties of up to 36 people.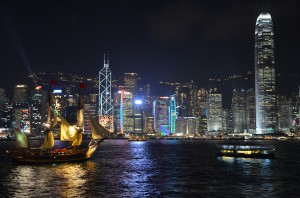 You can choose from a wide range of Á la carte dishes or if you prefer there is a tasting menu. You can add a wine pairing with this menu and the cost is around 100 euro per person.
Actually we had a problem with this. Because the indications about the pairing weren't clear so we chose a wine that finally appeared to not be included in the option adding an extra 20 euro per person. It was the first time i encountered such a problem in a starred restaurant. Disappointing.
You can check their menu clicking on the image below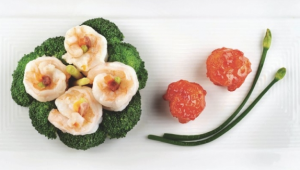 By the glass, served in premium Riedel glassware, Golden Leaf offers 19 red and white wines, as well as four champagnes for the celebratory evenings. The list is particularly deep on French wine, but also offers rarer finds like a Greek white and a dessert wine from Hungary. Customers looking for the extra Chinese touch will revel in seeing nine different teas with health benefits spelled out, as well as nine Chinese wines including the world famous Moutai.
The menu started with a mix of appetizers. The plate was composed by duck and pork served with different jam/ creams. This was unfortunately the only dish I really liked, especially the duck, extremely tasty.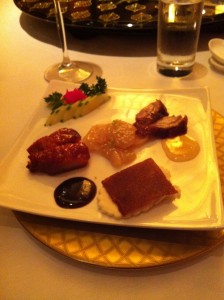 Scallops stuffed with minced shrimps and vegetables. Nothing impressive.
Braised fresh sliced abalone with mushroom sauce and seasonal vegetables. Again, nothing special and poor in taste.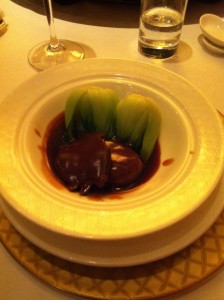 After that, a jelly fish and some noodles came. I remember well my first thought about the noodles. They were tasteless and the ones I used to eat when I was young in some cheap Chinese restaurant in Milan were much better. Awkward.
The last dish was a pan fried duck. I wish I could tell you I liked it… but instead it was disappointing again.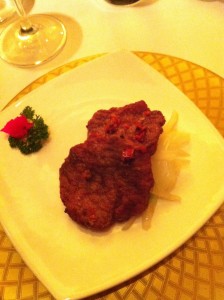 Finally we had a trio of desserts. Did they make my evening sweeter? Not really. But at that point I was completely disappointed about all the dinner.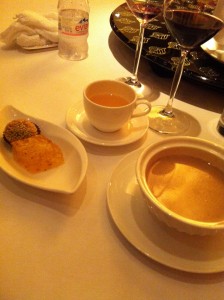 CONCLUSION
When you enter a Michelin starred restaurant you have some expectations. If you tried different famous restaurants than your expectations are even higher. Well since we came inside the golden leaf I felt an awkward feeling of disappointment…
The vegetables and food in general were average. Given the price point of this restaurant, the quality of the food and service received, I will not return. Another big negative point to me was the food design..actually there wasn't any care in food presentation (except for the first appetizer)..It's something that I've always found in a starred restaurant: beautiful presented dishes.
I truly felt robbed. I was hoping that a chinese starred restaurant would be different than these cheap restaurants in Milan.. Instead I got out from the golden leaf with the feeling that I paid 100 euro for a 15 euro dinner.
But again. This is just my personal opinion. The restaurant is placed inside one of the best hotel in Hong Kong and received tons of awards.. so what can I say… maybe it's just a difference of cultures.. but yeah,  for european standards ,this restaurant cannot be compared to any of the michelin star restaurant in our continent.
*****
HOW TO GET THERE
GOLDEN LEAF – CONRAD HOTEL
Pacific Place, 88 Queensway - Hong Kong – HONG KONG
Phone : +30 852-2521-3838 – Fax : +30 852-2521-3888
E-mail : Contac Page
Home page : Golden Leaf
Related posts: