New York Michelin Star Restaurant: Daniel
Here we are guys talking about a 3 Michelin star gem in New York City .Daniel by Chef Daniel Boulud is located in the heart of Manhattan's upper east side. His award winning contemporary french cuisine is inspired by the seasons and accompanied by a world class wine cellar. Daniel is one of only a few Manhattan NY Times 4 star rating and 3 Michelin stars.
From 2003 is run by executive chef Jean Francoise Bruel ,  he leads a team of over 30 cooks and sources the finest ingredients from around the world at a restaurant that has earned four stars from The New York Times, three stars in the Michelin Guide, named #8 on Restaurant Magazine's list of the "World's 50 Best Restaurants" and recognized with a prestigious James Beard Award for 'Outstanding Restaurant'.
Location is very elegant with contemporary furnishing and neo classical architecture , superb service  that let you feel like a king for a night..
Reservation is mandatory, we booked it one month in advance and they ask you to leave credit card details and there is a no show penalty.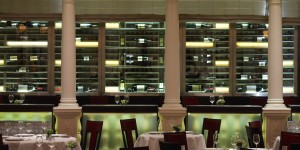 We accompanied our dinner with a bottle of  CREMANT DE JURA, FRANCE  Tissot Brut "Indigène". I always prefer red wine but as it was a hot summer night we decided to go for bubbles. I can say that it was a huge mistake not drinking a old aged red wine with the duo of beef..  and  to end our food flight we delighted ourselves with two 1997 Warres Port , perfect combination with the chocolate dessert.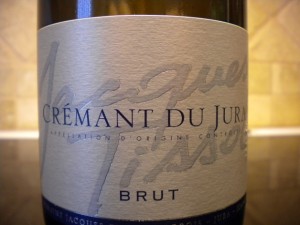 Restaurant Daniel's wine list spans 15 countries and includes over 2,000 selections carefully chosen for their utmost quality by Head Sommelier Raj Vaidya. The cellar has a capacity of 25,000 bottles and is both temperature and humidity controlled for optimum wine storage conditions.
For the food you have different options.. Tasting Menu which include 6 different courses for 195 usd plus 105 usd for wine paring..  that raises to 220 usd for the 8 courses and 130 usd for the wine paring for it. We decided to go for a la carte menu where you can chose 3 courses fix price for 116 usd plus some supplement for couple of options. (Click on the image to see the menu)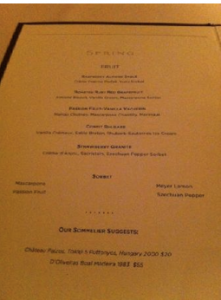 As we were waiting for the starters , amuse bouche was given together with a fantastic selection of bread served by a dedicated waiter.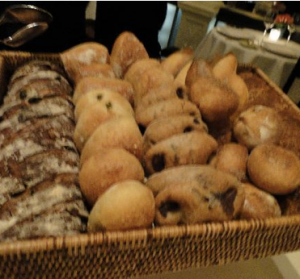 As a starter we chose   SWISS CHARD AND CLOUMAGE RAVIOLI
 with  Porcini, Twig Farm Fuzzy Wheel Cheese
 Lomo Iberico, Savagnin-Melilot Sauce  . I can honestly say that it was good with a interesting combination of ingredients but nothing that i will remember all my life.
We both decided to take, as a main course, the DUO OF BEEF
 : Braised Black Angus Short Ribs
 Chermoula Spiced Carrot Purée, Oyster Mushroom Duxelle
 Seared Wagyu Tenderloin, Haricot Verts, Smoked Bone Marrow, Potato Confit
Ohh yes.. this was superb. Wagyu tenderloin just melted in our mouth.. juicy and tasty at the same time , medium rare.. just evolved our night to perfection..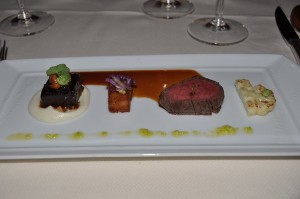 As dessert we ordered : WARM GUANAJA CHOCOLATE COULANT 
Liquid Caramel, Fleur de Sel, Milk Sorbet
Absolutely fantastic, the perfect end of a 3 starred Michelin experience.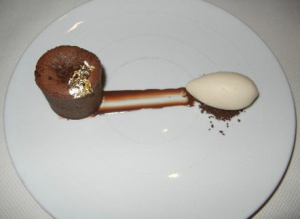 CONCLUSION
Very high expectations when you walk in a 3 star Michelin star dining gem,  you pretend everything perfect. It almost reached perfection  as ambience, service, wine list , the combination of different ingredients totally satisfied us . The only little disappointment  was with the starter as i previously said.  Cuisine is feeling and passion  and those ravioli didnt turn me on ..
Next time i will go for a tasting menu without any doubts, but before that i would love to read your comments about your future experience at Daniel's!!
*****
HOW TO GET THERE
DANIEL
60 East 65th Street at Park Avenue – New York, NY 10065 – USA
Phone : +01 212.288.0033
E-mail : info@danielnyc.com
Home page : www.http://danielnyc.com
Closed for lunch but available for private events
for up to 140 guests.
Closed Sundays & major holidays.
DRESS CODE
Jackets required for gentlemen; elegant or business attire.
No jeans, sneakers, shorts, sandals or t-shirts please.
No sportswear, flip flops, or baseball caps.
Related posts: