Piedmont Wines: Domenico Clerico Barolo Pajana – 1993
Producer: Domenico Clerico
Style: Red Wine
Grape Type: Nebbiolo
Origin: Italy
Region:  Piedmont
 THE WINE
Tasting notes: Good full red.  Perfumed, expressive aromas of redcurrant, cherry, flowers and graphite.  Sweet and supple but youthfully imploded, showing excellent intensity to its deep red fruit flavors.  Began a bit aggressively tannic but mellowed steadily with aeration.  Finishes with terrific length.
Food Pairing : is fabulous with juicy red or roasted meat , chicken and game or venison. To be served at 18 celsius.
About Nebbiolo….
Nebbiolo based wines made outside the Langhe hills are often lost in the commotion over Barolo and Barbaresco. The provinces of Vercelli and Novarra in the northern reaches of the Piedmont area are home to wines like Carema, Ghemme, and Gattinara. The latter two wines are mostly Nebbiolo, which as traditionally been blended with small percentages of other grapes native to this cool, mountainous region. (Nebbiolo is generally called Spanna in Ghemme and Gattinara).
Gattinara in particular has a long history of producing high-quality Nebbiolo wines. The wines here tend to be lighter and more graceful than their cousins to the south, though seldom displaying the complexity or concentration of flavor achieved in the Langhe. But fans of traditional Piedmont wines that are free of modern artifice and new oak notes will find plenty of interest in these often gripping and very food-friendly wines.
Note that vintages here to not exactly track those of the Langhe. In a hot summer like 2003, when Nebbiolo in Barolo and Barbaresco often lost some of its verve and spine as acidity levels plunged, many vineyards in the hillier northern reaches of Northwest Italy achieved near-perfect ripeness, providing fuller wines than usual without loss of balance or backbone.
Relatively unknown to North Americans are the wines of Valtellina, in the far north of Lombardy, at the foot of the Alps near the Swiss border. These steeply sloped, terraced vineyards were originally home to a host of indigenous varieties but today the wines made here are almost universally based on Nebbiolo (called Chiavennasca here). As might be expected from a relatively cool area, the wines are brighter and more vivacious than their Piedmont counterparts, with less weight and alcoholic richness. Sfursat is a wine made in Valtellina from dried Nebbiolo grapes, a la Amarone.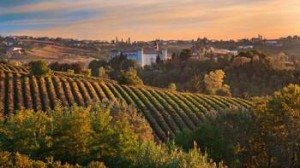 Of course, some of the best Nebbiolo's come from the Alba area. These Nebbiolo wines may be partly or entirely declassified Barolo and Barbaresco (i.e., juice from young vines or lots that are not up to the producer's standards for its flagship bottlings), or they may come from vineyards outside the closely delimited Barolo and Barbaresco zones.
In either case, those Nebbiolo wines are bottled and released much earlier and are suitable for drinking young. Consistently good and often surprisingly affordable Nebbiolo's come from producers like Elio Altare, Aldo Conterno, Paolo Conterno, Bruno Giacosa, Elio Grasso, Prunotto and Produttori del Barbaresco, just to name a few
Related posts: