Piedmont Wines: Gaja Barbaresco
1998 Gaja Barbaresco  
Producer: Gaja
Style: Red Wine
Grape Type: Nebbiolo
Origin: Italy
Region: Piedmont
EXPERTS REVIEW
91 Points | International Wine Cellar , November/December 2002
Good deep medium red. Deeply pitched aromas of plum, mocha, licorice and dried flowers. Dense and chewy with extract; compelling, sweet flavors of currant and licorice. Tannins are sweeter than those of the '99 Barbaresco. Finishes with a suggestion of nutty oak.
92 Points | Wine Spectator
91 Points | Robert Parker's The Wine Advocate
THE WINE
Aromas of red berries, flowers, earth and truffles. Lovely definition of fruit, earth and texture. Powdery tannins, crisp acids dense full finish promises wonderful future development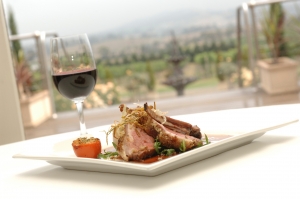 FOOD PAIRING
Barbaresco is a powerful red wine that combines best with dishes that have a strong flavor. Subtle dishes will be overpowered by this wine and are better to combine with less stronger wines. Below you can find some serving suggestions.
Traditional Piedmontese dishes:
Piedmontese cuisine is full of specialties with tasty meat and powerful sauces, often combined with white truffle that combine well with Barbaresco such as: Risotto al tartufo bianco, Manzo stufato alla Piemontese, Agnolotti al tartufo, Fricandó alla Piemontese, Fonduta con tartufi, Cardata alla Torinese, Taglierini con fonduta e olio di tartufo as well as many other traditional Piedmontese dishes.
Meat:
Beef, game and stews such as beefsteak, lamb, veal, rabbit, wild boar and deer.
Poultry:
Especially wild poultry like guineafowl (in truffle sauce) and pheasant but also duck breast and foie gras.
Pasta:
Pasta with a strong tomato or truffle sauce.
Cheeses:
Old strong cheeses like Parmigiano Reggiano, Pecorino vecchio, old Gouda and old Cheddar, blue cheeses such as Gorgonzola and Castelmagno as well as cheeses with a rich flavor like Fontina, Taleggio and Boschetto al tartufo.
Barbaresco is best served in large round wine glasses and the best serving temperature is between 18°C and 20 C.
About Gaja…
The Gaja Winery was founded by Giovanni Gaja in 1859 and has been owned and operated by five generations of the Gaja family. Giovanni Gaja was the great-grandfather of Angelo Gaja, the Winery's current owner.
In 1994, GAJA acquired its first wine estate in Tuscany, Pieve Santa Restituta in Montalcino. This estate produces three Brunello di Montalcino wines- including the single vineyard Sugarille- from vineyard holdings totaling sixty five acres.
In 1996 Gaja acquired a second property in Tuscany, Ca'Marcanda, located in Castagneto Carducci in Bolgheri. Of the property's 200 acres, 150 have been planted with new vineyards: primarily Cabernet Sauvignon and Merlot, as well as Cabernet Franc and Syrah.
Currently, the Gaja Winery owns 250 acres of vineyards in Piedmont, located in the Barbaresco district (Barbaresco and Treiso) and the Barolo district (Serralunga d'Alba and La Morra).
Since its inception, the Gaja Winery has continuously evolved in ways that have always focused on meticulous care of and attention to the quality of its wines.
Related posts: