Scallops Wrapped In Bacon With Creamed Leeks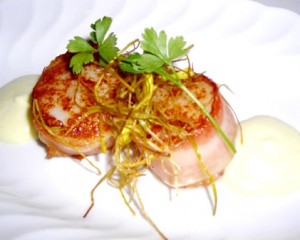 Chef Agata Parisella recipe for the restaurant  Agata e Romeo – Rome
There are hundreds of scallops recipes on the web but I assure you that this one will be a winner on your table! The scallops are a cosmopolitan family, found in all of the world's oceans. Many scallops are highly prized as a food source. The scallop is also known as "The Shell Of St. James" since it was the emblem of James, son of Zebedee, and is popular with pilgrims on the Way of St James to the apostle's shrine at Santiago de Compostela in Galicia (Spain).
From the shells of scallops washed and opened with the help of a knife, you pull out the shellfish that are held aside.
Clean and dice the white part of the leek and stew over low heat with olive oil and chopped shallots. Allow to cool and then reduce it to a puree that is salted to taste.
Julienne the green part of the leek, put it in water and ice to make it crisp. Dry it and fry in the hot oil until you get plenty of crispy wires.
Wrap each slice of bacon around each scallop and then cook in a pan greased with oil.
Spread the cream of leeks on the plate with a big spoon and place two scallops topped with tufts of wires. You can garnish the composition with parsley leaves.
Bon appétite!
INGREDIENTS FOR 8 PEOPLE
16 scallops, 16 slices of bacon dry, 2 leeks, 1 shallot, olive oil, salt, parsley for garnish
Related posts: