The Best Restaurants In Italy: Il Tipico – Genova
Following La Brinca, we are still in Liguria, now talking about a seafood restaurant : Il Tipico, on the top of mountain ( 200m above sea) overlooking the ligurian see from east to west  it's a famous restaurant from the 1980's.  During the past 10 years , owner changed several times so let's go to see how they work now…
The location is outstanding , most of the tables are just facing the sea where you can enjoy a 180 degrees panorama from Portofino mountain to the west of Liguria , in lucky days you may also have the chance to see Corsica . Don't forget to ask for a table with view!
Once seated Menu was given by the only waiter .There is a tasting menu which allows you to taste a bit of everything for 50 euros without beverage. I do think this is a good value price as seafood restaurants are normally expensive in this area.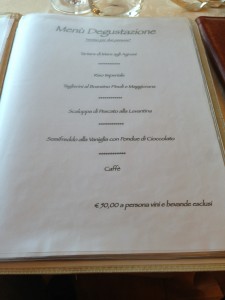 With the meal with had a bottle of Bellavista Cuvee, one of Franciacorta's most famous product with a really good value for money.
A good portion of the wines of which is constituted, fermented and matured for seven months in small oak barrels. To this great complex of olfactory and gustatory variants are  added the scents and flavors of the "wines reserve "of harvests that took place at least 6/9 years before.
The valuable contribution of "wines reserve "refines the taste of the constant Casa Bellavista and, above all, gives the Franciacorta Cuvée Brut a persuasive an inimitable finesse. The grapes used are about 80% Chardonnay and 20% Pinot Noir and Pinot Blanc.
As we were not very hungry, we decided to go for 3 starters to share and a main course .. let s discover what we ordered..
A raw seafood mix .. very fresh and tasty.  It was a bigger portion than i was expecting , 1 oyster ,  tuna carpaccio , a piece of salmon with a very interesting mustard on the top, chopped calamaro, sea bass carpaccio , scampi and two red prawns from local sea.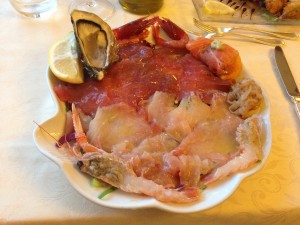 Pan fried stuffed anchovies , very very tasty.. very simple to do as well as the owner explained me the recipe.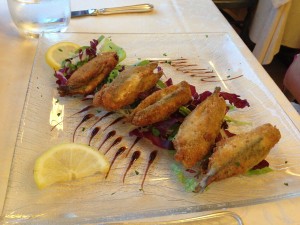 Oysters.. there is nothing to explain about them.  Very fresh , and this is the most important thing .  Lemon and pepper and they were great!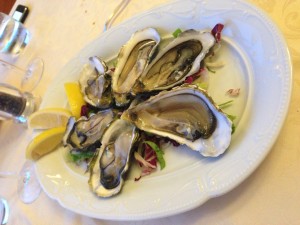 As main course we went for the house speciality.. Risotto alla Brezza marina ( sea breeze risotto ) . It may look as a normal seafood risotto but i can say it was really tasty and rich of seafood.  I think the secret to give a lot of seafood taste and smell is to use a proper Broth ( called Fumetto in italian) made with seafood and fish. Rice was perfectly cooked.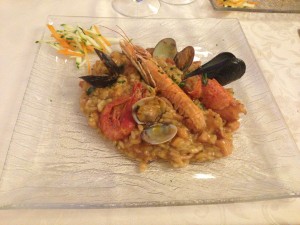 For the dessert we ordered a trio including a  strawberry and cream Millesfoglie, a cream made with a old recipe and a chocolate semifreddo. They were good but nothing extraordinary.  I accompanied it with a glass of Moscato Passito from Piedmont.
Service was medium , there was only one waiter for 3 tables and i was expecting him to pour the wine each time the glass was empty. He didn't and it was the biggest lack in the service.
CONCLUSION:
Really enjoyed the food , fresh seafood with an important wine list.  Only minus for the service . Price adequate for the quality of the products.
*****
HOW TO GET THERE
RISTORANTE IL TIPICO
Via Poggio Favaro 20 – Bogliasco – Genova
Phone : ++39 010 3470754 – Fax : +39 010 3470754
E-mail : info@ristoranteiltipico.it
Home page: www.ristoranteiltipico.it
Related posts: