The Best Restaurants In Italy: La Brinca – Liguria
We will start our journey through the best restaurants in Italy with a special place. La Brinca. A hidden gem , located between the ligurian sea and the mountains it's a perfect place to taste local dishes with a superb wine cellar .
The place  run by Sergio and his family has a long and rich history. Open from 1987 nowadays is one of the best restaurant in Liguria. The name Brinca in the ancient ligurian etymology means "steep place" steep and hard like their land.
They propose a large variety of traditional local dishes which stem from the peasant heritage of west Liguria, therefore only using local farm products of the season.
The cellar is extraordinary.. Built by Sergio with the idea of having a large selection of different products from Liguria and rest of the world, uncommon and Classic wines and they always offer them at the best value for money.
The menu a la carte is very interesting, they offer a wide selections of typical meals mainly meat based. All the ingredients are of prime quality and most of them come from the restaurant garden. You can get the " tasting Menu" including :  appetizer, 2 pasta dishes, main course, cheese and dessert   including wine pairing for 50 euros. This is really good value for money.
We started with a bottle of Carlo Zadra Italian " metodo classico" on a 1.5 lt magnum. Made with : Chardonnay , Pinot Noire and Blanc. Is a hidden gem on the market, very difficult to find but they have it! It was the  perfect pairing for the mixed starter.. Very fresh…   Then we continued with a hidden gem from Isola del Giglio.. very powerful white whine Ansonaco.
With the Pasta dishes and the main courses, Sergio suggest us a not very common red wine from his cellar :  2001 Di Mako Norante Don Luigi riserva , a rich red wine from Molise (91 Points | Robert Parker's The Wine Advocate). With the dessert we ordered a bottle of Torcolato 1999, a wonderful sweet wine from Umbria.
You can taste a bit of each appetizer on the menu.  It changes depending on the season and the best part is the " testaieu with pesto " and " torta di riso"  both very typical from the region.
Pansoti alla salsa di noci
Another regional dish,  a special kind of ravioli with herbs from the land served with a walnut sauce . Must try it!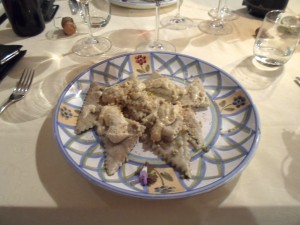 Minestrone alla genevose
This is what you will never think to eat in a restaurant! Vegetable soup only as they do in Liguria with homemade taglierini. What is the difference from other soups?  cook it for many hours and add fresh pesto!  simply fantastic!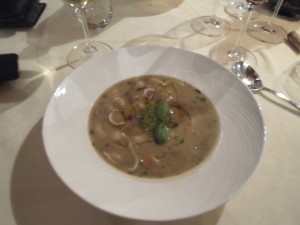 Fritto Misto alla genovese
When you come to Liguria you always think to eat fish.. expecially friend calamari and prawns.. This time we are trying  a different mixed fried..The genovese's mixed fry includes Crocchini (wafers filled with meat and herbs), latte brusco e dolce (creams and not semolina), a little rabbit meat and a lot of vegetables that can vary depending on the seasons.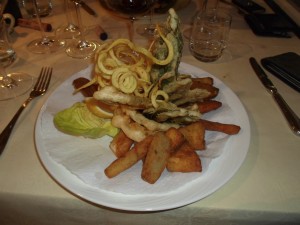 Last time we came here we were celebrating so we had a special dessert made specially for us. In any case the menu is full of delicious desserts and of course everything is home made with prime ingredients from their land. You definitely have to try it!
CONCLUSION
This is one of the best place in Liguria, good local food , superb wine cellar . Everything at the proper price. Very good value for that money. Over there you can afford wines that you will never buy in other restaurants. Hidden gem difficult to discover but when you know it.. it becomes a Must. Impeccable service from Sergio and his staff. Atmosphere warm and familiar.
***
HOW TO GET THERE
Ne, is a town of 2300 inhabitants , great mountains and hills , beautiful forest and a populated valley.  Is one of the five Italian municipality with the shortest name.  To get to the restaurant you will have to follow a short mountain road.
The restaurant is located in a romantic building where the owner and his family are living. There is a free car park in the backyard. Booking is compulsory so remember to call and book a table before getting there!
LA BRINCA RESTAURANT
VIA CAMPO DI NE , 58 – 16040 – NE (GE)
Phone : ++39 0185 337480 – Fax : +39 0185 337639
E-mail : labrinca@labrinca.it
Home page: www.labrinca.it
Closed on Monday
Lunch service only on weekends (Saturday and Sunday) and festivity
Related posts: