Tuscany Wine: Sassicaia 2001 – Tenuta San Guido
Producer: Tenuta San Guido
Style: Red Wine
Grape Type   85% cabernet sauvignon  15% cabernet franc
Origin:  Italy
Region: Tuscany
THE WINE 
The weather was particularly favorable, with very little rainfall during the summer. The temperatures are very similar to those of 2000, have remained above the seasonal average, thus promoting a comprehensive and early ripening of the grapes.
97 Points | International Wine Cellar , January 2009
(85% cabernet sauvignon and 15% cabernet franc): Deep red-ruby. Knockout nose combines raspberry, dark cherry, smoke, coffee, minerals and sexy coconutty oak. Then rich and very complex without any undue weight on the palate, offering deep, concentrated flavors of dark cherry, blackberry, cassis, balsamic herbs and cedar. This still very young wine offers a rare combination of density, intensity of flavor and vinosity, finishing with fine-grained tannins and subtle notes of pepper and herbs.
Along with the 2004, this is my choice for the best Sassicaia of the last 20 years, in a classic, ultra-clean and refined style. The 2001 vintage in Bolgheri was characterized by a deep freeze at Easter time (with temperatures down to -6°C), which greatly reduced eventual vine yields and caused a 10%-15% decrease in overall production. A cooler than average September prolonged the ripening and brought more hang time for the fruit, allowing for optimal ripeness and the potential for complex, long-lived wines.
Personal Tasting Notes
Color is lovely garnet with little sign of age, medium bodied, very bright.
Nose was a little closed but opened up a bit an hour after decanting. Blackberries, cassis, spice and cloves, much better after 1 hour in the glass.
Palate matched the nose with some mocha notes, relatively too sweet. Still a few years of improvement ahead.
Food pairing
Sassicaia can be paired with intense flavours such as game, especially roast pigeon, beef in general and mature cheese.
Suitable as simple pairing to nuts and porcino mushrooms.
About Sassicaia…
The mythical Super Tuscan wine estate of Sassicaia is located in Tenuta San Guido, Italy. Sassicaia is produced by the Incisa della Rocchetta family. The family's history has played an important role in high society since medieval times, and particularly since the Renaissance of Italy. During the peak of the Austro-Hungarian Empire, one of the Incisa ancestors, Leopoldo, retired from a high ranking military position. He decided to take up winemaking on his family vineyard. He planted rare Italian and foreign vines, in an innovative move which today are a point of reference in oenology.
Mario Incisa, heir of Leopoldo, got married and began a stud farm on the land and began experimenting more dramatically with the foreign varieties. Despite local protests, he diligently kept experimenting with these foreign varietals (namely Cabernet Sauvignon and Merlot) and improving his wines. He planted more low yielding vineyards on the family estate and after years of hard work and international acclaim (while the local regulatory board ignored their wines), Sassicaia was eventually awarded its own DOC, DOC Bolgheri Sassicaia.
The estate is about 2500 ha in area and is very diverse in terms of tierra and use. Two thirds of the area is left to the forest, 150 ha is used for a horse training center, and 50 ha are used for olives and cereal. Less than 2.5% of the land, approximately 75 ha is used for winemaking. Sassicaia is located between the Tyrrhenian Sea and the hills behind Castle Castiglioncello. The land altitude is more than a thousand feet above sea level. Protected from the winds by the hills and Mediterranean climate provided by the proximity to the sea add to the altitude to make an ideal microclimate. Tenuta San Guido is split up into varying vineyards with diverse altitudes above sea level.

Vineyards planted as 'cordone speronato' produce about 5000 kg of grapes per hectare. 85% Cabernet Sauvignon and 15% Cabernet Franc is planted. The harvest in September is followed by a 12-14 day fermentation process. The wine is aged in French oak for 24 months for Sassicaia wines and 12 months for Guidalberto wines. After bottling, they are kept in the cellar for another 6 months before being released to market.
About Tuscany…
Along with Piedmont , Tuscany is italy's most important wine-producing area. Chianti, Brunello, Vino Nobile, and Vin Santo are known all over the world, as are the "Super Tuscans," a large group of important, high-quality reds born in the early 1970s and now representing some of Italy's best wines.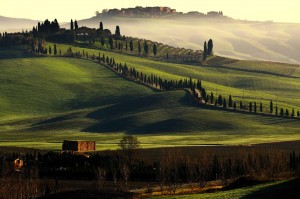 While Tuscany offers a plethora of riches to the wine lover, some of its most famous Tuscan wines, especially Chianti,Brunello and Bolgheri wines are experiencing a drop of sales. There are many reasons for this, beginning with a increase  rise  in prices over the last ten years that gives the chance to buy important wines only to rich people.
It is becoming clear to many that Tuscany is not only the land of the great Brunello and the award winning Super Tuscan, often available only to wine collectors. It is a region that has a great many interesting wines (pure and blends) made with grape varietals particular and unique to one little area that has its own specific soil composition and microclimate.
Related posts: